News Release
Excellon announces Drill Campaign at DeSantis Project, Timmins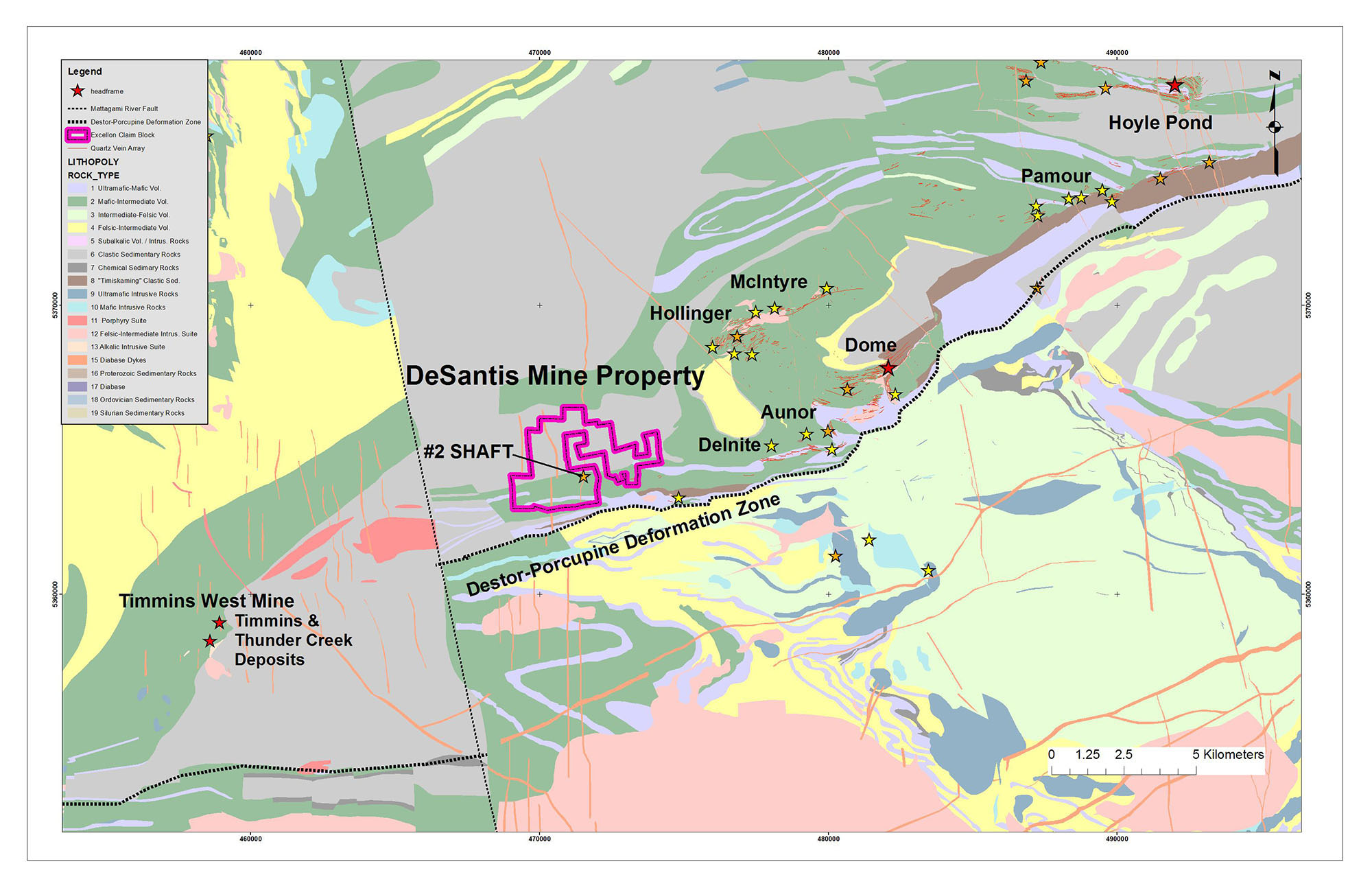 TORONTO, Oct. 31, 2012 /CNW/ - Excellon Resources Inc. (TSX: EXN) ("Excellon" or "the Company")is pleased to announce that it has commenced a 5,000 metres ("m") diamond drilling program on its DeSantis Project in Timmins, Ontario.
Highlights from previous drilling on the project include:
Hydrothermal Zone:

7.90 g/t gold over 5.2 m in hole DS10-02;
3.40 g/t gold over 9.9 m, including 13.70 g/t Au over 0.7 m in hole DS10-06;
3.63 g/t gold over 23.17 m, including 14.25 g/t gold over 1.17 m in hole DS10-10A;

Albitite Zone:

1.74 g/t gold over 12.0 m, including 10.39 g/t Au over 1.5 m in hole DS12-004.

"We are very pleased with our technical progress at DeSantis since the completion of the last drilling campaign in April. The exploration team in Timmins has done a thorough job of compiling historical data and come up with several new target areas," stated John Sullivan, Vice-President of Exploration. "This regional approach has enabled the Company to see the project in a new light and we look forward to the results of this drilling program."
The DeSantis Project, which includes the past producing DeSantis Mine, covers approximately five km of strike length within the highly prospective geology of the Destor-Porcupine Deformation Zone ("DPDZ"), the main structure controlling gold deposits in the Timmins gold camp. The DeSantis Mine produced 35,800 ounces of gold from 178,650 tonnes of ore which graded 6.2 g/t Au during its intermittent production history. The property is located approximately 11 km west of Goldcorp Inc.'s Dome Mine and 14 km east of Lake Shore Gold Corp.'s Timmins Mine. Exploration on the DeSantis Project since 2010 includes 5,888 m in 15 holes in 2010 and 27 holes (seven abandoned due to technical issues) totalling 11,039 m in 2011/2012.
In mid-October the Company completed a comprehensive program of geotechnical compilation, relogging and sampling of recent and historic drill core and reviewing the project in a regional context. Based on the results of this work the Company commenced the current 5,000 m diamond drilling program in late October. Drilling will follow up on promising recent results and will test undrilled areas east of and below the known Albitite Zone. In addition, geophysical and geological targets will be tested in a series of holes on areas of the project that have not been thoroughly explored. Map 1 shows the location of the property in the Timmins Camp, while Map 2 is a longitudinal section showing the location of recent and planned drilling near the No. 2 shaft on both the Hydrothermal Alteration and Albitite zones.
Beschefer Drill Campaign
A winter 2013 drill program is being planned for the Company's 100%-owned Beschefer property, which is located approximately 60 km northeast of the Casa Berardi Mine, 80 km east-southeast of the Detour Gold Project and 12 km east of the past-producing Selbaie Mine.
The property hosts the "B-14 Zone", which was discovered by Billiton Canada Inc. in 1995, but marginally explored prior to the Company's involvement. In early 2012, the Company completed 8,867 m of drilling in 33 holes focussed on the B-14 Zone. Significant intersections included 13.07 g/t Au over 8.75 m including 58.5 g/t Au over 1.50 m in hole BE12-014, and 10.35 g/t Au over 1.50 m and 3.56 g/t Au over 6.06 m in hole BE12-030. The B-14 Zone is found within a typical Archean volcanic assemblage, with gold hosted in pyritic quartz veining within a mylonitic unit. As the Beschefer property has little or no bedrock exposure and is muskeg-covered, drilling is most effectively performed during freezing conditions.
Update on La Platosa Production
Excellon is also pleased to announce that milling recommenced at the Company's mill in Miguel Auza, Zacatecas on October 29th. In the past few days, the Company trucked 1,800 tonnes of ore from its high-grade silver/lead/zinc La Platosa Mine in Durango, Mexico. An updated production forecast for the remainder of 2012 will be released in due course.
Qualified Persons
The Company's DeSantis Project and Beschefer Property exploration programs are supervised by John Sullivan, B.Sc., PGeo., Excellon's Vice-President of Exploration and Stephen Conquer, B.Sc., PGeo., Excellon's Exploration Manager, Canada.
Mr. Sullivan is an economic geologist with over 35 years of experience in the mineral industry. Prior to joining Excellon in 2007 he was a senior geologist at a Toronto-based international geological and mining engineering consulting firm where he evaluated properties and prepared NI 43-101 reports on gold and base metal projects in Canada and internationally. In addition he has held senior positions with two large Canadian mining companies where he directed major exploration programs, managed field offices, and evaluated projects in Canada, Europe, Africa and Latin America. Mr. Sullivan is not independent of Excellon as he is an officer of the Company.
Mr. Conquer is an economic geologist with over 30 years of experience in the mineral industry. Prior to joining Excellon he was Senior Project Geologist and Chief Mine Geologist for a company with gold exploration and mining operations in Timmins where he directed surface and underground exploration programs and the geological component of underground mining operations. Previously Mr. Conquer also held Chief Mine Geologist positions at operations near Sudbury and Marathon and senior exploration positions in the Abitibi and Red Lake Greenstone Belts.
About Excellon
Excellon's high-grade silver production drives transformative exploration potential. The Company's 100%-owned La Platosa Mine in Durango is Mexico's highest grade silver mine, with lead and zinc by-products making it one of the lowest cash cost silver mines in the country. With 41,000 hectares of exploration ground surrounding the mine, Excellon is focused on discovering the large-tonnage Source of the high-grade silver mantos currently in production. Such a discovery has the potential to transform La Platosa into the next major project in Mexico's prolific CRD/silver belt.
On behalf of
EXCELLON RESOURCES INC.
Peter A. Crossgrove
Executive Chairman
The Toronto Stock Exchange has not reviewed and does not accept responsibility for the adequacy or accuracy of the content of this Press Release, which has been prepared by management. This press release contains forward-looking statements within the meaning of Section 27A of the Securities Act and Section 27E of the Exchange Act. Such statements include, without limitation, statements regarding the future results of operations, performance and achievements of the Company, including potential property acquisitions, the timing, content, cost and results of proposed work programs, the discovery and delineation of mineral deposits/resources/reserves, geological interpretations, proposed production rates, potential mineral recovery processes and rates, business and financing plans, business trends and future operating revenues. Although the Company believes that such statements are reasonable, it can give no assurance that such expectations will prove to be correct. Forward-looking statements are typically identified by words such as: believe, expect, anticipate, intend, estimate, postulate and similar expressions, or are those, which, by their nature, refer to future events. The Company cautions investors that any forward-looking statements by the Company are not guarantees of future results or performance, and that actual results may differ materially from those in forward looking statements as a result of various factors, including, but not limited to, variations in the nature, quality and quantity of any mineral deposits that may be located, significant downward variations in the market price of any minerals produced [particularly silver], the Company's inability to obtain any necessary permits, consents or authorizations required for its activities, to produce minerals from its properties successfully or profitably, to continue its projected growth, to raise the necessary capital or to be fully able to implement its business strategies. All of the Company's public disclosure filings may be accessed via www.sedar.com and readers are urged to review these materials, including the technical reports filed with respect to the Company's mineral properties, and particularly the November 22, 2011 NI 43-101-compliant technical report prepared by Roscoe Postle Associates Inc. with respect to the Platosa Property. This press release is not, and is not to be construed in any way as, an offer to buy or sell securities in the United States.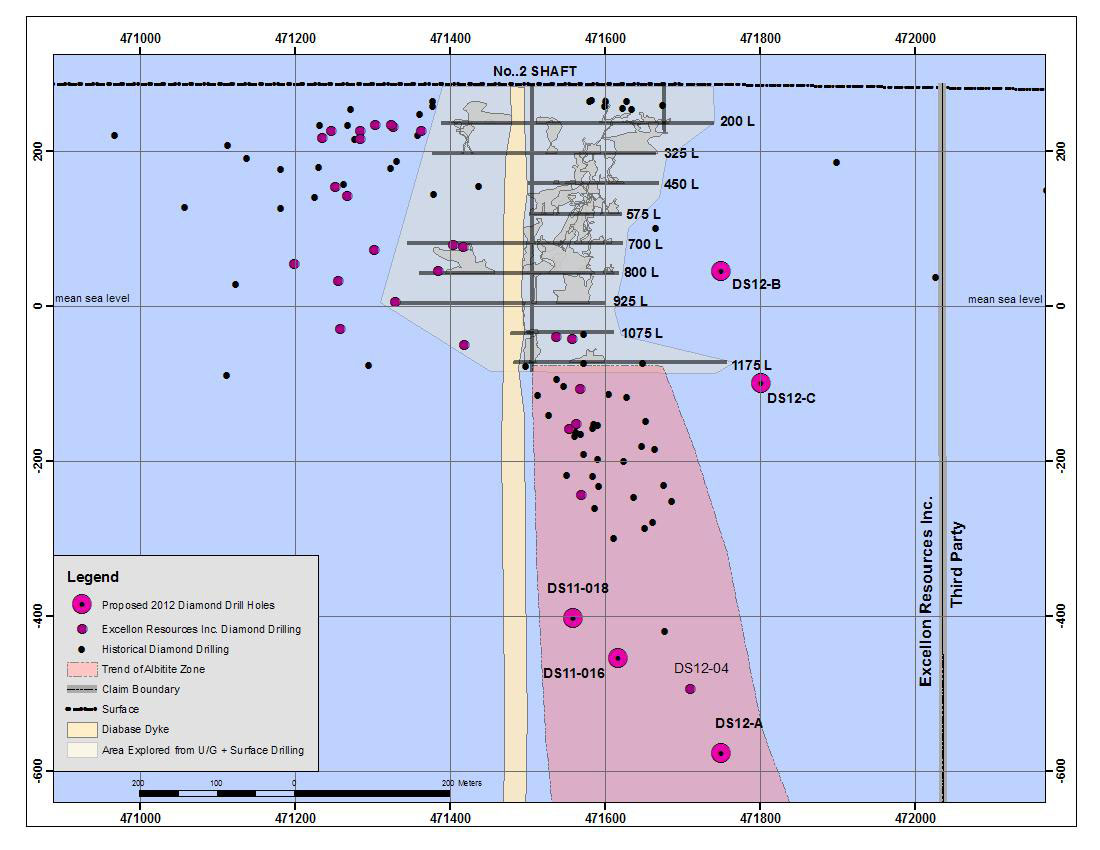 Image with caption: "Map 1: Location Map - DeSantis Property (CNW Group/Excellon Resources Inc.)". Image available at: http://photos.newswire.ca/images/download/20121031_C3456_PHOTO_EN_19880.jpg
Image with caption: "Map 2: Longitudinal Section No. 2 Shaft Area (CNW Group/Excellon Resources Inc.)". Image available at: http://photos.newswire.ca/images/download/20121031_C3456_PHOTO_EN_19881.jpg
SOURCE: Excellon Resources Inc.
Excellon Resources Inc.
Joanne C. Jobin, Vice President, Investor Relations
T. (416) 364-1130
E.info@excellonresources.com
Email Signup
Sign up for the latest news and updates