News Release
Excellon Commences 2018 Exploration Program At Platosa And Appoints New Director
Toronto, Ontario – December 14, 2017 – Excellon Resources Inc. (TSX:EXN, EXN.WT and EXN.WT.A; OTC:EXLLF) ("Excellon" or the "Company") is pleased to announce the commencement of an extensive surface exploration program on the 21,000-hectare Platosa Property in Durango, Mexico targeting further extensions to the Platosa Mine system and new manto and skarn discoveries. The program is planned to include:
30,000 metres of diamond drilling to:

define additional mineralization near existing infrastructure at the Platosa Mine from underground drill platforms, following up on successful drilling from earlier in 2017;
test and discover new manto mineralization along the prospective Platosa Corridor, which has recently been defined by geophysical analyses over a five-kilometer strike north and south of the Platosa Mine, with surface drilling commencing this week; and
test skarn targets (~500m below surface) northeast of the 2012 Rincon Del Caido discovery ("Rincon") in more prospective settings.

extensive soil geochemistry and induced polarization ("IP") surveys at developing targets including Saltillera, Jaboncillo and San Gilberto; the latter two targets have not been explored historically but exhibited mineralization on surface in recent prospecting.
"The upcoming exploration program is founded on a back-to-basics review and reanalysis of the large historical database of geophysics, geochemistry and drilling on the Platosa Property," stated Ben Pullinger, Vice President Geology. "This analysis has already successfully identified new prospective targets at Jaboncillo and San Gilberto, which have been confirmed by field mapping. We are confident that this methodology and the improved understanding of the regional system surrounding the Platosa Mine will lead to positive exploration results in 2018. We are also pleased to have the funding secured to execute this comprehensive exploration program as we explore for new manto and skarn discoveries on one of Mexico's most prospective mineral belts."
Defining Additional Tonnage at the Platosa Mine
Since Q3 2016, the Company has completed 24 diamond drill holes totaling 6,600 metres from surface and 75 diamond drill holes totaling 6,000 metres from existing underground infrastructure at Platosa. Highlights from this program include:
discovery of the connection between the Pierna and the Rodilla Mantos;
extension of the NE-1 Manto to the east;
discovery of new mineralization linking the high-grade 623 and Guadalupe South Mantos, with significant results* including:

1,203 g/t Ag, 9.3% Pb and 13.4% Zn or 2,255 g/t silver equivalent ("AgEq") over 11.1 metres in EX17UG330, including 2,079 g/t Ag, 14.2% Pb, 23.9% Zn or 3,857 g/t AgEq over 5.2 metres;
1,366 g/t Ag, 7.9% Pb and 13.6% Zn or 2,369 g/t AgEq over 3.2 metres in EX17UG328
2,291 g/t Ag, 15.0% Pb and 13.3% Zn or 3,570 g/t AgEq over 3.6 metres in EX17UG329
886g/t Ag, 8.8% Pb and 20.5% Zn over 6.76 metres in EX17UG323;
2,965 g/t Ag, 16.4% Pb and 0.9% Zn over 1.45 metres and 1,171 g/t Ag, 9.3% Pb and 2.9% Zn over 1.06 metres in EX17UG324; and
1,600 g/t Ag, 6.4% Pb and 8.7% Zn over 3.70 metres in EX17UG325.
* All intervals are reported as core length. AgEq in holes 328-330 assume $17.00 Ag, $1.03 Pb and $1.23 Zn, while holes 323-325 assume $16.50 Ag, $1.00 Pb and $1.25 Zn, all with 100% metallurgical recovery.
Drilling has been ongoing from a dedicated drill drift over the high-grade 623 Manto since late October, with this phase of the program designed to delineate additional mineralization around the periphery and to depth on the manto. Following completion of this phase of drilling in Q1 2018, the underground program will focus on further delineating the connection between the Pierna and Rodilla Mantos and subsequently focus on expanding the Pierna Manto laterally to the south and to depth. The Company expects to release further results from this program in Q1 2018.
Drilling for New Platosa Mantos and Skarn Discoveries
The Company has also completed a comprehensive reprocessing and review of geophysical data and a property-wide re-interpretation of the structural and lithological controls for mineralization at Platosa. Through this process, the Company has generated numerous targets based on geology, chemistry, structure and geophysics that will be tested throughout 2018. Priority drill targets in this program include:
manto targets defined by lithological and structural analyses on the Platosa Corridor immediately south of the high-grade Guadalupe South Manto;
manto targets north of the historically mined Guadalupe North Manto, where stringer mineralization encountered in recent underground drilling indicates potential for additional manto mineralization associated with structural confluences;
manto targets on the Platosa Corridor north and south of the Platosa Mine defined by IP and gravity geophysics; and
skarn targets similar to Rincon (146 g/t Ag, 2.8% Pb, 1.9% Zn and 0.22 g/t Au over 43.40 metres, including 381 g/t Ag, 10.6% Pb, 11.5% Zn, 0.35 g/t Au over 5.8 metres in LP1023A) in larger and potentially more prospective settings to the northeast of Rincon, which have been defined through reprocessing and reanalyses of IP, magnetics (ZTEM) and gravity geophysics.
Exploring for More Platosa-style Deposits on the Platosa Property
Over the last 12 months, in addition to surface and underground drilling, the Company has reinitiated fundamental exploration of the Platosa Property, including focused mapping and prospecting at Saltillera North and Jaboncillo, six kilometres and 11 kilometres northwest of the Platosa Mine, respectively. Both targets continue to return anomalous results for silver and base metals over growing strikes of 600 metres and 1,100 metres, respectively. The Company believes these results to be indicative of the alteration profile associated with an underlying and structurally influenced mineralizing system. This work and results provided the foundation for targeting the soil geochemistry surveys that commenced in the Q4 2017, which will be followed by geophysical campaigns in the first half of 2018. The Company expects to define new drill targets from these surveys to be tested in the second half of 2018.
San Gilberto is a newly developing target located 13 kilometres south of the Platosa Mine, which was identified through gravity and magnetic analyses. This target will be progressed further with surface prospecting and, likely, IP surveying later in 2018.
2018 Initial Exploration Programs at Platosa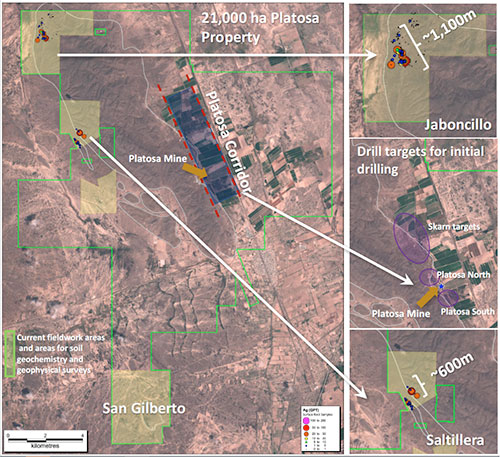 Appointment to Board of Directors
The Company is also pleased to announce the appointment of Andrew Farncomb to its Board of Directors. Mr. Farncomb is a founder of Cairn Merchant Partners LP, a merchant bank focused on advisory and principal investing. He has extensive experience advising public and private companies on mergers, acquisitions and financing transactions. He is a founder and director of Contact Gold Corp., an advanced stage Nevada gold exploration company, a board member of several other TSX Venture Exchange listed companies and a board member and Chair of the Investment Committee at the Flavelle Family Foundation. Mr. Farncomb was formerly a Partner and Investment Banking professional at Paradigm Capital Inc., a Canadian investment dealer, and graduated from Smith School of Business at Queen's University with a Bachelor of Commerce (Honours) degree.
"Andrew brings extensive capital markets experience and a broad perspective to the Board. We look forward to Andrew's contributions in the coming years," stated André Fortier, Chairman.
Geological Description of the Platosa Property
The Platosa mineral resource sits under approximately 56-hectares of the 21,000-hectare Platosa Property and comprises a series of linked high-grade massive sulphide, silver-lead-zinc manto deposits on the periphery of an under-explored Carbonate Replacement Deposit ("CRD") system. CRDs are epigenetic, intrusion-related, high-temperature, sulphide-dominant, lead-zinc-silver-copper-gold-rich deposits that commonly occur in clusters associated with major regional geologic features. The Mexican CRD Belt is perhaps the world's best-developed CRD cluster and Platosa lies in the centre of the northwest-southeast-trending axis of the largest deposits of the belt.
CRD orebodies take the form of lenses or elongate to elongated-tabular bodies referred to as mantos or chimneys depending on whether they are horizontal or steeply inclined. A spectrum of CRD orebodies exists, ranging from distal manto and medial chimney massive sulphide bodies to proximal sulphide-rich skarns associated with unmineralized or porphyry-type intrusive bodies.
Historically, manto exploration has focused on areas within 1.5 km of the Platosa Mine. Outside of the immediate resource area drilling has been limited, but has consistently encountered the favourable heterolithic fragmental limestone unit that hosts all the high-grade massive sulphide mineralization discovered to date at Platosa. There is excellent potential to continue to discover new mantos as the deposit area is open to the north, northeast, east and southeast of the known mantos.
Qualified Person
Mr. Ben Pullinger, P. Geo, Vice-President Geology, has acted as the Qualified Person, as defined in NI 43-101, with respect to the disclosure of the scientific and technical information relating to exploration results contained in this press release.
About Excellon
Excellon's 100%-owned Platosa Mine in Durango has been Mexico's highest-grade silver mine since production commenced in 2005. The Company is focused on optimizing the Platosa Mine's cost and production profile, discovering further high-grade silver and carbonate replacement deposit (CRD) mineralization on the Platosa Project and epithermal silver mineralization on the Miguel Auza Property and capitalizing on the opportunity in current market conditions to acquire undervalued projects in Latin America.
Additional details on the La Platosa Mine and the rest of Excellon's exploration properties are available at www.excellonresources.com.
For Further Information, Please Contact:
Excellon Resources Inc.
Brendan Cahill, President & Chief Executive Officer or
Nisha Hasan, Vice President Investor Relations
(416) 364-1130
info@excellonresources.com
www.excellonresources.com
Forward-Looking Statements
The Toronto Stock Exchange has not reviewed and does not accept responsibility for the adequacy or accuracy of the content of this Press Release, which has been prepared by management. This press release contains forward-looking statements within the meaning of Section 27A of the Securities Act and Section 27E of the Exchange Act. Such statements include, without limitation, statements regarding the future results of operations, performance and achievements of the Company, including potential property acquisitions, the timing, content, cost and results of proposed work programs, the discovery and delineation of mineral deposits/resources/reserves, geological interpretations, proposed production rates, potential mineral recovery processes and rates, business and financing plans, business trends and future operating revenues. Although the Company believes that such statements are reasonable, it can give no assurance that such expectations will prove to be correct. Forward-looking statements are typically identified by words such as: believe, expect, anticipate, intend, estimate, postulate and similar expressions, or are those, which, by their nature, refer to future events. The Company cautions investors that any forward-looking statements by the Company are not guarantees of future results or performance, and that actual results may differ materially from those in forward looking statements as a result of various factors, including, but not limited to, variations in the nature, quality and quantity of any mineral deposits that may be located, significant downward variations in the market price of any minerals produced [particularly silver], the Company's inability to obtain any necessary permits, consents or authorizations required for its activities, to produce minerals from its properties successfully or profitably, to continue its projected growth, to raise the necessary capital or to be fully able to implement its business strategies. All of the Company's public disclosure filings may be accessed via www.sedar.com and readers are urged to review these materials, including the technical reports filed with respect to the Company's mineral properties, and particularly the July 9, 2015 NI 43-101-compliant technical report prepared by Roscoe Postle Associates Inc. with respect to the Platosa Property. This press release is not, and is not to be construed in any way as, an offer to buy or sell securities in the United States.
Email Signup
Sign up for the latest news and updates